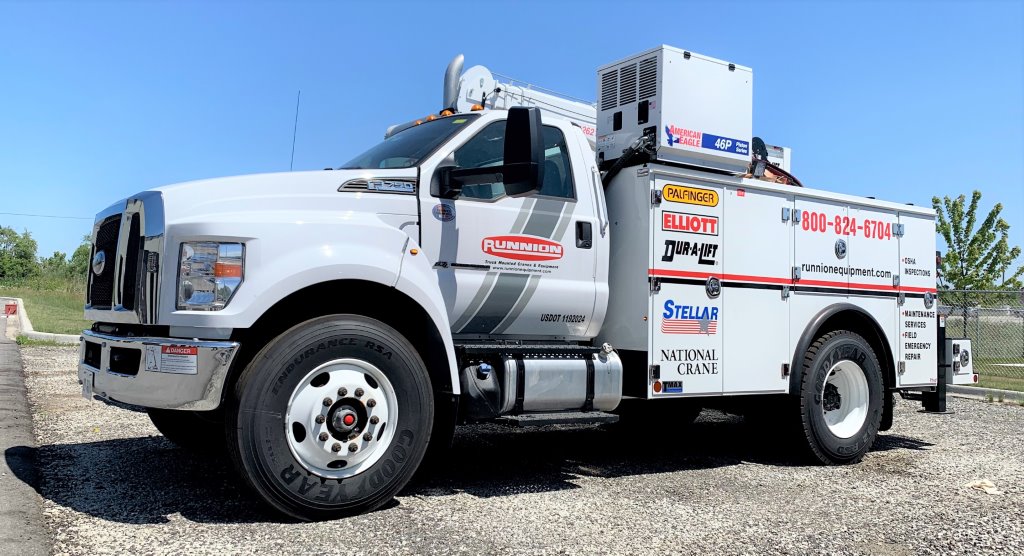 Runnion Equipment offers these tips for maintaining your fleet.
1. Know the importance of cost savings with preventive maintenance
Properly maintained vehicles reduce unscheduled repairs and downtime. Preventive maintenance may include oil changes, tire rotation/inspection and general safety vehicle inspections. Whether you're following oil change intervals at a set mileage or use an oil life monitor, be sure to maintain tire rotations and overall vehicles inspections on a regular basis. All too often, this is the only time a vehicle is inspected all over for fluid levels, air pressure in tires and more. If maintenance costs are growing faster than profits from incoming work orders, consider outsourcing maintenance management to a Fleet Vehicle Maintenance provider.
2. Pay attention to your total cost of ownership
Keep an eye on your maintenance costs and notice when they begin to rise based on vehicle age. Additionally, understand the manufacturer's warranty coverage and how it impacts your total cost of ownership. Understand the residual value of the asset, trends in the used vehicle market and the optimal time to sell the vehicle for a cost-effective fleet.
3. Spec vehicles properly
It's important to be aware of the demands each vehicle will face. Take the time to outline vehicle usage – properly spec'd vehicles can reduce cost. Under-spec'ing a vehicle, based on usage and load carried for instance, leads to maintenance issues down the road that could impact your budget. Similarly, utilizing an over-spec'd vehicle will drive increased cost. Work with your fleet management company when spec'ing replacement vehicles based on usage, operating conditions, what's being carried, etc.
4. Communicate company policy with drivers
Make sure all drivers are aware of their responsibilities and company vehicle use policies. They should have a complete understanding of your company's PM schedules, maintenance policies and know what to do if the vehicle needs repair or is involved in an accident.
5. Check tire pressure regularly
We hear about the importance of tire pressure all the time, but oftentimes overlook this important aspect of vehicle maintenance. Tire pressure affects vehicle handling, tire wear and fuel mileage - all contributing to vehicle and driver safety. Also overlooked is the effect of air temperature on tire pressure with the changing seasons. Instill the importance of checking and maintaining tire pressure with your drivers.
6. Hire qualified drivers and equipment operators
While hiring fleet employees, you should consider several factors including: medical history, experience, driving records. Accredited medical cards should be obtained to certify that the applicant is medically fit for driving commercial vehicles. Your insurance company can run a DMV report on potential drivers and it is a good idea to run the report once a year on all drivers. An NCCCO crane operator certification gives you piece of mind that your operator has completed a demanding course and passed the series of tests to achieve accreditation.
7. Offer training for drivers and operators
Train your drivers and operators. There are many online classes available as well as video and slide show presentations you can purchase. Studies confirm that training in safe-driving policies lowers traffic incident risks of fleet vehicles. With successful safety training programs, organizations can decrease accident rates, reduce vehicle repair costs and lessen legal issues.
Make sure to provide your drivers with guidelines regarding the importance of wearing seat belts, and advise them on what need to be done in case of a vehicle breakdown, road incident or crash. Also implement fleet-wide safety rules and make it mandatory for every staff to follow them. Make them aware of the consequences that may occur due to distracted driving and use of mobile devices during driving.
Runnion Equipment can familiarize your operators in the safe operation of their cranes and equipment in our shop or at your location. Runnion is proud to sponsor NCCCO Operator Training and Testing twice a year at our facility in Hodgkins, Illinois.