3 Reasons To Love The Dur-A-Lift DAT3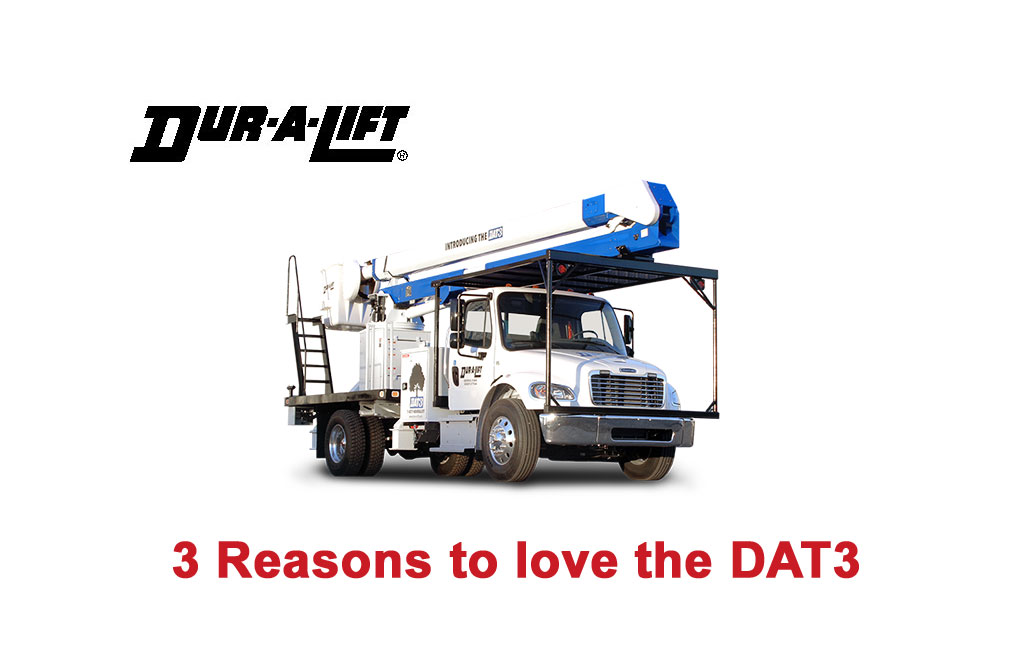 All Things Runnion
Blog Posts
The Dur-A-Lift DAT3 is packed with features that will make it easier for you to get where you weren't able to get before.
Reason #1
The DAT3 can easily maneuver through multiple tree branches due to its end hung basket and one-of-a-kind telescopic upper boom, which allows the operator to easily navigate through multiple tree crotches to reach tree branches that you otherwise wouldn't have been able to get to without having to reposition the truck. Watch the video as the narrow profile of the end hung basket allows the operator to squeeze through tight areas where a side hung basket wouldn't be able to fit. The telescopic upper boom allows the operator to squirt further into the tree to cover even more area.
Reason #2
Utilize Dur-A-Lift's new patented outrigger analyzer system to deploy the outriggers out onto the curb with the outrigger override. Doing this allows you to park right next to the curb, taking up only one lane of traffic. View the video to see it in action.
Reason #3
The DAT3-70 features a working height of 75 feet and a side reach of 48 feet. This truck's non-overcenter design gives it extra stability so it is able to reach up and over obstacles. The telescopic upper boom extends 15 feet so the operators is able to trim even more branches once in position. Watch the video as the operator is able to reach a tree in the back yard while parked out front. Not having to reposition the truck means not only less damage to yards but also that jobs can be accomplished quicker.
Learn more about the DAT3 and contact Runnion today with your specific needs!