Runnion is one of National Crane's original dealers dating back to the Waverly, Nebraska days. From the 8 ton 300C model to the new NBT60 swing cab boom truck, National Crane sets the standard for truck-mounted, hydraulic cranes.
Runnion Equipment Company has been producing durable, dependable, telescoping cranes that are loaded with the operational and safey features you need to get the job done right. Runnion Equipment Company is ranked as one of National Crane's Elite Dealer's. Runnion Equipment ensures that your truck mounted crane is maintained properly through the National crane CraneCARE system.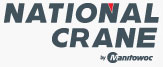 Telescoping Cranes — Stand Up Controls
Telescoping Cranes — Swing Seat Controls
You can also view older National Model Product Guides.
| | Model | Type | Lifting Capacity | Working Height | |
| --- | --- | --- | --- | --- | --- |
| | 14127A | Boom Truck - Swing Cab | 33 Tons | 137 Feet | |
| | 560E | Boom Truck - Stand Up | 18 Tons | 69 Feet | |
| | 562C | Boom Truck - Stand Up | 15 Tons | 72 Feet | |
| | 680HTM | Boom Truck - Tractor Mount | 20 Tons | 88 Feet | |
| | 690E | Boom Truck - Stand Up | 20 Tons | 148 Feet | |
| | 690E2 | Boom Truck - Stand Up | 20 Tons | 100 Feet | |
| | 8100D | Boom Truck - Stand Up | 23 Tons | 110 Feet | |
| | 8100D | Boom Truck - Stand Up | 23 Tons | 110 Feet | |
| | 8100D | Boom Truck - Stand Up | 23 Tons | 110 Feet | |
| | 8100D | Boom Truck - Stand Up | 23 Tons | 100 Feet | |
| | 8100D | Boom Truck - Stand Up | 23 Tons | 110 Feet | |
| | 890D | Boom Truck - Stand Up | 23 Tons | 100 Feet | |
| | 9103A | Boom Truck - Stand Up | 26 Tons | 113 Feet | |
| | 9103A | Boom Truck - Stand Up | 26 Tons | 103 Feet | |
| | NBT30H | Boom Truck - Stand Up | 30 Tons | 120 Feet | |
| | NBT30H-2 | Boom Truck - Stand Up | 30 Tons | 120 Feet | |
| | NBT30H-2 | Boom Truck - Stand Up | 30 Tons | 120 Feet | |
| | NBT40 | Boom Truck - Swing Cab | 40 Tons | 205 Feet | |
| | NBT40 | Boom Truck - Swing Cab | 40 Tons | 127 Feet | |